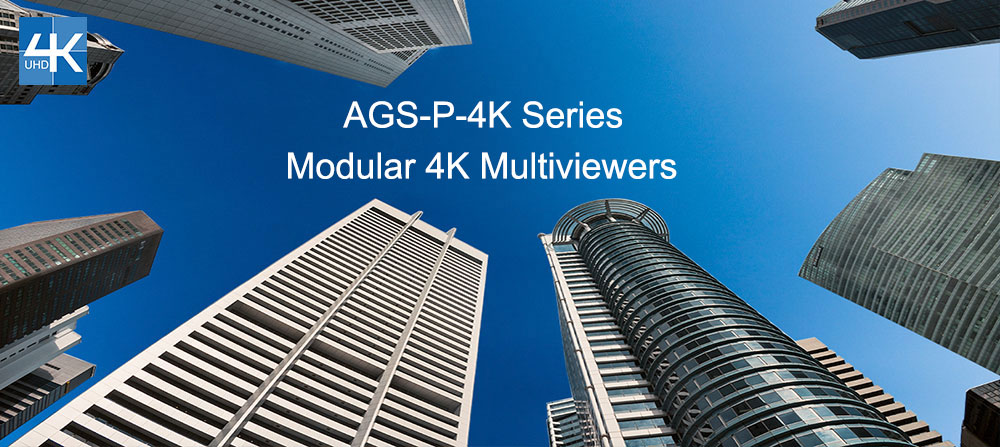 Feature-rich & User-friendly Modular 4K Video Multiviewers
The AGS-P-4K series is a modular 4K multiviewer with high performance. It offers a range of creative features, including dynamic window sizing and positioning, input grouping, smooth panning and zooming within images, overlaps and programmable presets. It supports multiple modular input cards, including 4K/Duallink 4K/VGA/CAT/HDBaesT/Fiber Optic, etc. The AGS-P-4K series multiviewer supports up to 20 inputs and one 4K output. The performance is demonstrably superior to the industry standard.

4K UHD Supported
The AGS-P-4K series supports 4K×2K point-to-point display. The 4K UHD videos and images can display on the 4K display device without compression and loss. Ultra HD features a massive 3840×2160 frame size that?s four times the resolution of regular 1080 HD video. What's more, the AGS-P2-4K-100 is compatible with multiple universal digital signal formats. It provides users with an unprecedented degree of flexibility.
HDMI Connector:

Support HDMI1.4a and HDMI2.0 standards

Support resolutions up to 3840×2160@24Hz/30Hz/60Hz and
4096x2160@24Hz/30Hz/60Hz

Meet HDCP2.2 standard

Chroma sampling 4:4:4, 4:2:2, and 4:2:0
Duallink Connector:

Supported resolutions range from 800?600@60Hz to 4096?4096@20Hz

EDID management

DVI 1.0 standard
More Flexible Operation of 4K Dynamic Videowall Displays
The AGS-P-4K series can display multiple windows on a single screen without loss. 8 and 16 windows are available. It allows you to manipulate the output images to various sizes and multiple positions on the desired display. Automatic matching all kinds of projectors and display devices. It provides easy configuration, lower cost, reliable and flexible solution for users.
Meeting today's demand for the highest resolution possible, the AGS-P-4K series 4K multiviewer delivers unequalled reliability, 24/7 robustness, and the ability to display your high quality content with eight million pixels of performance.
User-selectable Output Settings
The AGS-P-4K series can displays two 4K sources and eight 1080p sources on a single screen at maximum. Four 4K sources and sixteen 1080p sources display on a screen is also available. All the output setting is user-selectable.
OSD Display Screen a Powerful State
The AGS-P-4K series 4K multiviewer provides OSD function which allows the input signals to be classified. The identity of signal source is customizable which offers unparalleled flexibility for users.
Advanced HD/UHD Decoding Technology
The AGS-P-4K series multiviewer adopts advanced H.264 and H.265 decoding technology. It supports IP decode in multiple encoders. In addition, it features the capability of decode one 4K, four 1080p signals and eight 720p signals simultaneously.
User-defined Loop Output
The AGS-P-4K series multiviewer supports input grouping and output looping management. The interval time and the mode of output looping is user-defined. It is widely used in the remote monitoring, mission-critical control room, traffic management center, security operations center and command center, etc.
Virtualized Platform Design
The AGS-P-4K series multiviewer can works standalone or integrated with a control system with it's virtualized platform design. Users can operate AV devices for centralized management and monitoring through the professional virtualized platform software.
Graphic User Interface

Built-in OSD function

Auto detect signal input

One-click signal switching method

Built-in scene settings function

Authority management

Data backup and fast recovery