Your position: Home > Products >Quarter-CAT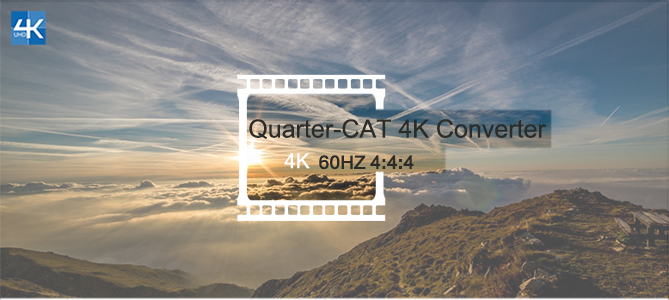 The Latest 4K@60Hz and 4:4:4 Technology
The Quarter-CAT is the world's advanced 4K converter because it includes the latest 4K@60Hz and 4:4:4 technology. It features automatic recognition and conversion of 4K UHD input signal formats, and switches HDMI 4K to RJ45. The Quarter-CAT is well suited for use with projector, videowall, and LED display.
Compact Structure and Excellent Performance

Support HDMI2.0

Compatible with HDMI and DVI formats

HDCP2.2 compliant

Supports3840×2160@60Hz and 4096×2160@60Hz resolutions

Chroma sampling 4:4:4, 4:2:2 or 4:2:0
The Quarter-CAT is simple and compact.The quality of input and output connectors has reached the broadcast-type standard. Plug and play, the Quarter-CAT is very easy to operate.
4K UHD Resolutions Supported, More Immersive Visualization
The Quarter-CAT supports multiple 4K resolutions. It can transmit the 4K UHD image to the 4k@60Hz UHD display device without compression and loss. UHD features a massive 3840×2160 frame size that's four times the resolution of regular 1080 full HD video.
Twisted Pair Transmission
Twisted pair transmission has many advantages such low attenuation, broad bandwidth, strong anti-jamming performance, high safety, etc. The Quarter-CAT can convert one UHD HDMI to four full HD RJ45.
Broadcast-type 4K Projector Display
The Quarter-CAT supports 4K resolutions include 3840×2160 and 4096×2160 with 60Hz/50Hz/30Hz/25Hz/24Hz standards. It perfectly matches the 4K projector and transmit 4K video signal without loss and delay.
4K UHD Videowall Display
The 4K UHD image and video can be presented in the 2×2 LCD videowall with the Quarter-CAT built-in professional image alignment and revert technology. The LCD display with DVI or HDMI format is supported. All the output image is vivid, without frame loss, image flicker or split.
Drive the Small Pitch 4K LED Display
The Quarter-CAT can directly drive the small pitch 4K LED display. It can be connected with LED display through twisted pair. The output image quality is excellent.
Multiple Working Modes
The Quarter-CAT supports HDMI or DVI output mode. The frame rates of 60Hz, 50Hz, 30Hz, 25Hz, 24Hz and the chroma sampling of 4:4:4, 4:2:2, 4:2:0 is available. Changing its built-in switches is as easy as using a pen or a small screwdriver. This is great when you need to change settings quickly as there are no complicated menus to navigate.
Applications